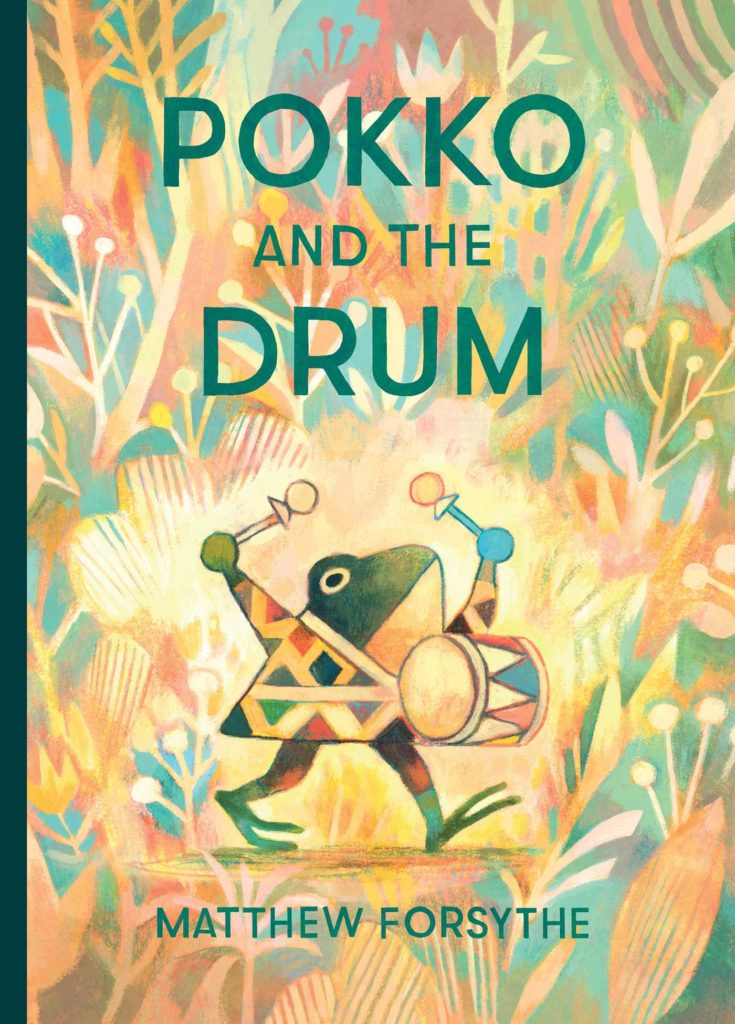 Book Title: Pokko and the Drum
Author & Illustrator: Matthew Forsythe
It only took the first line to pull me into the rest of this book, "The biggest mistake Pokko's parents ever made was giving her a drum." What parent doesn't relate to this experience? I never bought a drum, but you could easily replace that with a slime kit, kinetic sand, perler beads, Legos, etc. Or maybe that's just me. We love all of these things, but it gets a bit messy, okay more like incredibly messy :). Sometimes though, the biggest mistakes lead to the greatest gains.
Pokko's drum pounding is a bit loud for their small family home (by the way, my students loved how this frog family lived in a little mushroom) so mom and dad send her outside to play. Pokko decides it's way too quiet in the forest and starts to drum a beat.
Pokko, plays the drum through the forest and attracts a large group of fellow band members and music appreciators. Along the way, a wolf follower eats a rabbit. Pokko is a natural leader and isn't afraid to confront him. He apologizes and they continue on their way.
Pokko eventually returns home (still making music with the whole ensemble, of course) where we learn how much she's grown in her new skill.
Pokko and the drum is a fun story that shows us how we can grow with practice! This is why we use it in our classes when we're doing a series on growth mindset.
Storytime Yoga!
We love using this book for yoga because it's a fun story with a great lesson, the illustrations are beautiful and engaging, and it gives us so many opportunities to strike a pose!
We sunk into our goddess poses and played the drums by tapping a beat on our thighs. Later, we held our chair poses and tapped a beat on our laps. Adding rhythm to our poses is so much fun!
Also, since the book is all about drumming, our game for this class was a drumming circle which is not only fun, but helps children practice mindfulness by focusing on the beats and all the sensations that come with! We'll post a full lesson plan in our shop soon, but until then, we hope you'll check out the book.