To close out our week of self-care concepts, we led a class that was completely focused on letting go of our worries and just having some silly fun. Play is so important for children and adults. Not only does it offer some great stress relief, but it also gives us a chance to feed our creativity, problem solve, and build social skills. We used a super fun book, This is a Serious Book by Jodie Parachini, to guide our yoga flow this week. Although this is a picture book, it provide the perfect framework for a yoga session and kids of all ages (3-12 years) enjoyed this class.
Why we love this book…
This is a Serious Book has one requirement during reading…you have to stay serious. Just kidding! We did challenge our students to try to remain serious for some of our yoga activities though. Continue reading through the next section for some yoga fun. We love this book because our kids love this book! The whole premise of requiring seriousness but silliness seeping it's way through keeps you wanting to read more. The illustrations by Daniel Riley are colorful and add just the right amount of silliness.
As a kids yoga studio, we love this book because it has so many opportunities for yoga poses. You can create poses to match up with all of the different animals in the book (e.g. donkey, penguin, monkeys, snake, etc.). Children love acting like animals, through their movements and their noises! On top of that, you can create poses & games to match up with the different activities in the book (e.g. animal march, museum visit, getting dressed, etc.)
The writing and illustrations in this book will at the very least make your little ones smile, but we bet they'll giggle and interject some silliness of their own too. You'll have to read the book to find out if seriousness or silliness wins.
Storytime Yoga
This is a Serious Book starts out by telling us that this is a serious book. The author immediately takes us into some rules to let us know what not to do. For example, there are no funny faces allowed. We had some fun with this one through our yoga. We started in our downward facing dog poses. All of us tried our best to keep serious faces on. Then when instructed, we all transitioned into upward facing dog and surprised each other with our silliest faces! I challenged the class not to laugh as they looked around the room!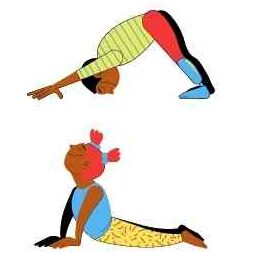 There are also no back handsprings allowed. For back handsprings we moved back into our downward dog poses, lifted one leg up for 3 legged dog, bent our lifted leg & stacked our hips, then we flipped over into wild thing. This pose is a favorite in our classes but not everyone is confident enough to try it so after we stack our hips I let them know to do the next part only if they want to give it a try because it is a little tricky.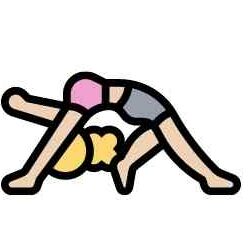 Yoga Museum Game
We played several games in this class since our theme was Make Time for Play. One of the games tied into the part of the book where we visit the museum. To play this game, we all become statues, holding our yoga poses super still. To begin, one child rolls the yoga dice. Then everyone freezes into the yoga pose from that roll. We all have to keep super serious faces, be perfectly still like statues, and make no sounds. The instructor can walk around to double check their statues and maybe even make some silly faces (this makes it more fun). Continue taking turns and becoming a yoga statue until everyone has a chance to roll the dice.
Silly Llama Marshmallow Painting
To go along with our super fun book & yoga session, we created a super fun mindful art project! Instead of painting with paint brushes, we painted with marshmallows! This is something most of us have not tried before, so it's guaranteed to be a hit. Not only is this activity fun, it also helps our kids practice mindfulness. With children, it helps to tie mindfulness into an activity because sitting still and practicing mindfulness is much harder than making something and being mindful. Mindfulness can help us manage stress & anxiety, increase concentration, and learn more about & build acceptance of ourselves.
Adding a mindful moment: This is a great art project for mindfulness because of all of the different sensations we can tune into. For example, you can ask them to notice the following things as they work:
the smell of the marshmallows
the sound of painting with marshmallows
if you let them eat some marshmallows too, they can think about the taste & texture of marshmallows
how it feels to tap the paint covered marshmallows on the paper
how the marshmallow changes as they continue using it
how they feel painting with marshmallows
Supplies required: mixed media art paper, acrylic paint, colored pencils, black sharpie, mini and jumbo marshmallows, llama template.
Steps for the art project:
Print the llama template on some mixed media art paper or card stock. You can cut out the template and use it as a stencil. You can use regular copy paper, but we like to have something a little more sturdy when we're painting.
Use a sharpie to trace over the ears, eyes, nose, and tongue.
Using colored pencils, color the llama's face and ears
Use a large marshmallow to paint the neck of the llama with the following technique. Lightly dip a jumbo marshmallow in acrylic paint, then lightly tap the paper. The neck will go from the bottom of the face to the bottom of the paper. Tapping the marshmallow instead of smearing it around will give us some nice fluffy llama fur texture!
Use a small marshmallow to paint fur around the face, including between the ears and the face, using the same tapping method.
Use marshmallows to decorate the background
Full Lesson Plan
You can find the full lesson plan for this class in our shop! Buy any 3 lesson plans and save 25%! All of our plans include a break the ice topic, warm-up, yoga/mindfulness game, yoga flow story & stick figure pose illustrations, breathing exercise, guided relaxation, and related art/craft project.