The Birth of Yogi Cubs
When I first started practicing yoga I was surprised by the magnitude of the positive impact on my mindset. Many of us are already aware of the benefits of yoga, but it's important to keep in mind that yoga is a personal journey.
I often wonder how different things might have been if I had started my practice as a child. Imagine learning how to manage stress through breathing and mindful movement as a child. Imagine learning to accept your feelings / your thoughts / your experiences, instead of pushing them away. Imagine getting to know and feeling comfortable in your own body. I started looking for yoga programs for my daughter so she would be better equipped to handle life than I was growing up, but I just couldn't find the right program.
-I wanted a program built for children to fit their abilities and attention spans.
-I wanted something flexible and affordable because it is so hard for us to fit extra activities into our lives.
-Most importantly, I wanted something real. A place where my daughter would feel a sense of belonging while being her authentic self.
I completed a 95 hour Yoga Alliance Children's Yoga Teacher training program with Yogees Yoga 4 Kids so I could teach yoga classes designed JUST FOR KIDS! I've continued my learning by completing the GoGo Yoga for Kids program and the Cosmic Kids certification!
---
The Team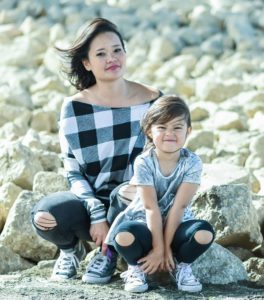 Hi! I'm Jessica! I'm a mother of one of my own and an almost mother to 3 steps. Yes, our house is pretty crazy most of the time!
I got my BS Degree in Communications from UT Austin (Hook'em Horns!), earned my MBA from the University of Dallas, and worked for many years in higher education, helping students find their way as they transitioned from high-school to adult life. My experience working with those "adult children" 🙂 showed me how much our young ones could benefit from a yoga & mindfulness practice.
Originally, I completed my children's yoga teacher training out of selfishness to teach my own lil yogi, but as I learned, I also realized I should be sharing the benefits with as many kids as possible.
---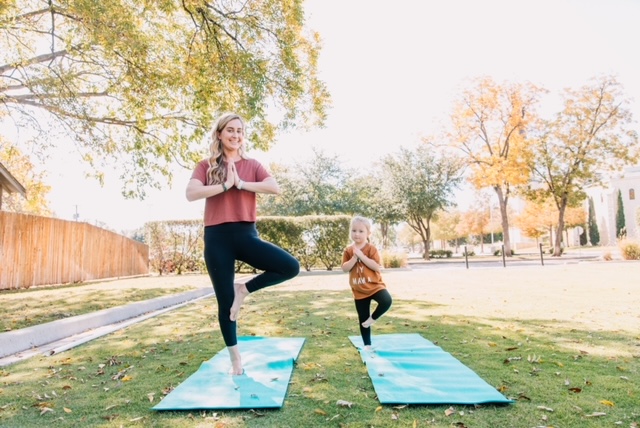 Reigan – Instructor
Hi there, my name is Reigan & I always knew I wanted to become a teacher. My grandma used to take me to her 2nd grade class when I was a child, and also took me to my first yoga class when I was just 10 years old!
I was in my third year of college at The University of Colorado in Denver when I started experiencing anxiety attacks, and a doctor recommended that I try yoga. Yoga was my saving grace; it was yoga that carried me through the days of me trying to figure out who I was, and who I wanted to be. I was lucky enough to attend my first adult class at Red Rocks in Colorado! I picked up yoga again in 2017, after moving back to Texas with my spouse and daughter. I completed my 200 hr training at The Yoga Project in Fort Worth. This experience forever changed me as a teacher, and helped me along in my own self-healing journey. I also completed my kid's yoga training with Kidding Around Yoga online during 2020. The kid's yoga training was very enlightening, and showed me many ideas on how to teach and how creativity is the main ingredient when teaching kiddos! 
Holding a space for little yogis to give their little bodies and overstimulated minds a chance to rest within the frenzy of the world, is so rewarding for me. Also, being able to bring my 4 year old daughter with me to teach at the studio, is just the icing on the cake! Teaching kiddos will forever hold the most special place in my heart, and I am froeever grateful that this is my job.
I have taught yoga in a dance studio, an elementary school for FWISD; a church childcare center; a fitness center, cryo therapy studio, and an adult yoga studio! I am beyond excited for this new journey at Yogi Cubs and cannot wait to connect with the students there and bring some mindfulness to their life! 
---